Inforial (The Jakarta Post)
Jakarta ●
Fri, May 13, 2022

2022-05-13
20:23
31
53ea05b5fe2e13733519dbf4e30b68d5
4
Tooltip

Free

The Ministry of Education, Culture, Research and Technology held a Hybrid Flag Ceremony on May 5 to commemorate National Education Day 2022. Nadiem Makarim, dressed in the traditional costume of Flores, acted as master of ceremonies. The hybrid ceremony took place at the grounds of the Ministry of Education office under strict health protocols as Jakarta was under a Level 2 Public Activity Restriction (PPKM).
Throughout the ceremony, under the theme "Leading the recovery, towards self-directed learning", Nadiem reminded the audience of the breakthroughs of the ministry at the dawn of the third year of the pandemic. The success of the Merdeka Belajar (independent learning) program has not only had positive effects on students, parents and teachers, but also on other members of the G20 forum.
"This year we demonstrate that Indonesia is no longer a follower but a leader in the global recovery," Nadiem said.
. (./.)
Students and teachers who previously struggled with learning loss due to remote learning have been aided by the ministry's efforts to reach out and support them in the teaching and learning process with the new curriculum. Today, the Merdeka Belajar curriculum is used by 140,000 educational institutions across Indonesia. "It means that hundreds of thousands of Indonesian children will learn in a much more fun and liberating way," Nadiem explained.
"We will continue to take command, be at the forefront of the recovery and defend Merdeka Belajar." Nadiem said, encouraging students and educators at the end of her speech.
In the same vein, Nadiem also praised artists and other creative industry players for their comeback as the economy recovers. "Our persistence in innovation has led to the cultural endowment fund and the first cultural channel in Indonesia. Now there is no limitation of space and support for expression to promote our culture," he said.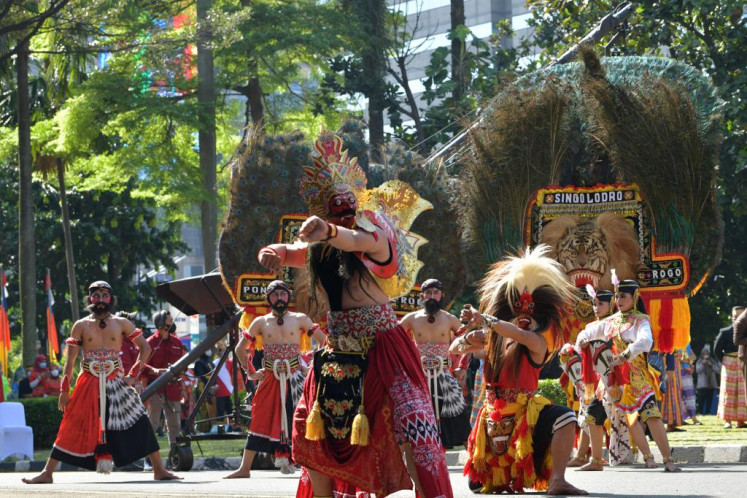 . (./.)
252 participants in traditional dress from various parts of Indonesia attended the offline ceremony. Online, there were a total of 2,700 participants consisting of honor students, representatives of various educational houses, the first two Guru Penggerak (pioneer teachers), universities of the Kampus Merdeka apprenticeship program (campus independent), former students of Kemah Budaya Kaum Muda (youth cultural camp) and creative industry actors and language ambassadors 2020-2021.
The Nadiem also awarded the prestigious Satya Lencana Karya Satya to six officials representing 2,740 officials from the Ministry of Education, Culture, Research and Technology.
This year's celebration also showcased assets of Indonesia's rich culture, including tenun (hand-woven textiles), jamu (traditional herbal medicine) and tempeh. The celebrations ended with a performance of reog ponorogo by the Reog Ponorogo Jabodetabek Association.